Skip to content
SmartBorder™

ABI / ACE

Importing involves constant change. If you're a land, sea or air broker or a self-filing importer, you want assurance that your U.S. import entry software is at the cutting edge. SmartBorder ABI/ACE, our flagship application, is your assurance. Backed by our expert support team, it offers compliance excellence and security in one powerful solution.
The fastest entry writing system in the industry.
File with confidence knowing that SmartBorder ABI/ACE not only meets all the stringent requirements of U.S. Customs and Border Protection, but guides you through the process faster. We update often to reflect regulatory changes while refining functionality. Easy navigation and defaults help you quickly complete every entry.
Three editions tailored to brokers and importers.
Whether you are a border broker, air/sea broker, or if you choose to self-file your shipments, SmartBorder's ABI application has a specific edition for you. Fast, precise, and intuitive, our software adds authority and security to any broker's service while guiding importers through the complexities of compliance.

Northern Border Edition
The fastest app of its kind, our Northern Border Edition enables your customers to contribute to their filing entries, saving further time.
Air & Sea Broker Edition
Whatever type of entry your customers require, our Air & Sea Broker Edition is flexibly configured to handle their needs.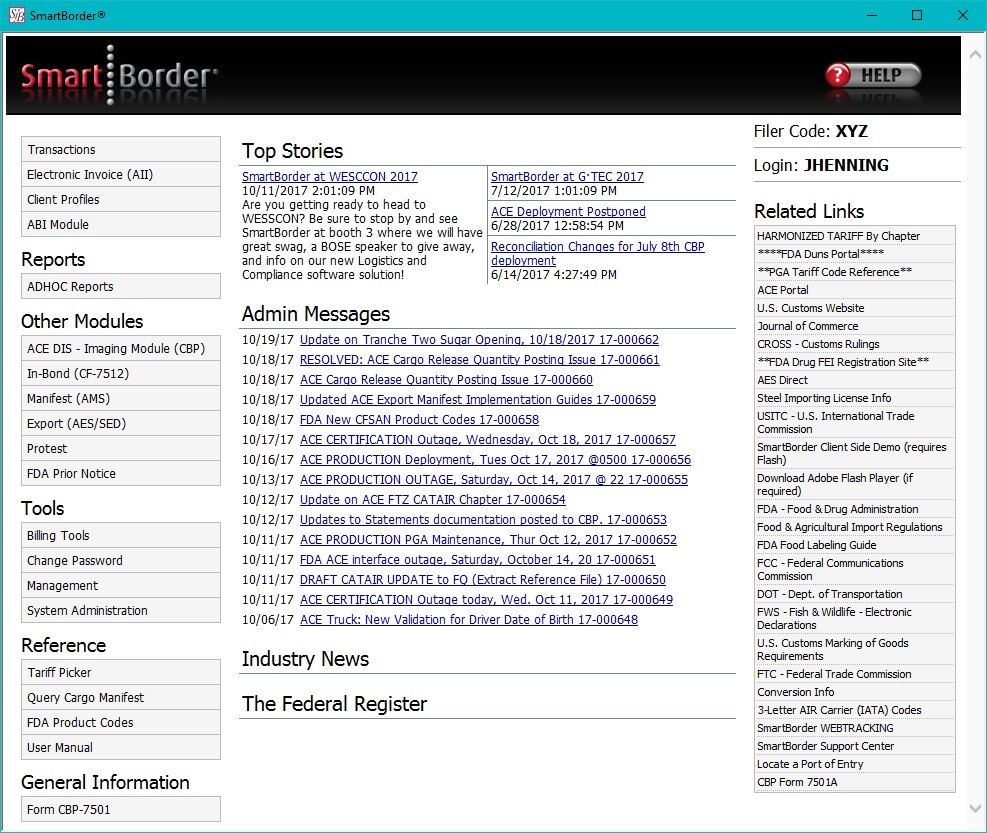 One application for all your entries and releases.
The best software makes your job easier. SmartBorder ABI/ACE improves your service in multiple ways. Navigation is easier and faster. PGA filing is built in. Validation checks are automatic. Special program recommendations are automatic. And results come back faster after transmission to CBP.
Find, view, print whatever you need fast.
When you want information you've got it. SmartBorder ABI/ACE is your window onto all filings across multiple transactions thanks to powerful search capabilities within our grids. Find any transaction via any field. View when an entry was released, who modified it, and more. Print or transmit your transactions in seconds.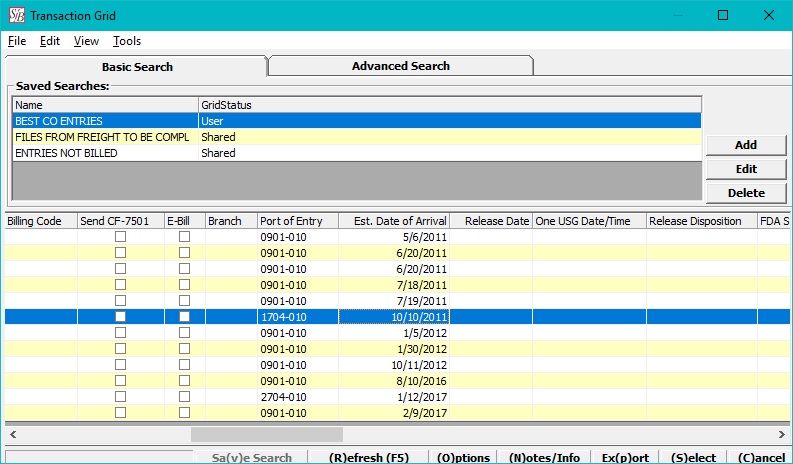 Store customer data with profiles.
Store all customer information: notes, contacts, bond info, product lists, transaction parties, billing details, manufacturer IDs, and 5106s. Update CBP directly from the app.
Store customer transaction parties.
Store shippers and consignees for easy entry selection. Transmit and query the CF-5106. Automate manufacturer IDs for transmission. Easily export any list to Excel.
Customize email notifications
Setup your staff and customers to receive automated email alerts for important events such a customs releases and prior notice. Keep everyone informed without having to open the transaction.
More features.
Use copy transaction to reduce data entry
Copy similar transactions and update unique data saving you time and reducing errors
Create and save real-time Ad-Hoc reports
Choose your fields and filters to generate your own reports, then export them to Microsoft Excel.
Electronically file In-bonds (7512)
File In-bond (7512)s in an easy to use module and take advantage of the copy transaction feature.
Search CBP's tariff database with our tariff picker
Classify and view tariff number information such as duty rates, special programs, and applicable PGAs.
File PGA with the entry
The system is updated with the latest PGAs (such as FDA) filed right from the entry.
Setup delivery orders
Create and print delivery orders with prepopulated data from the transaction.
Use Entry Review flags to prevent errors
Customize alerts and escalate entries that meet your requirements for additional review.
Use the product list to quickly complete entries
Store all relevant product information including tariff numbers and PGA data to populate in the entry.
Complete and print Bonds
Create single and continuous bonds for your clients as well as transmit eBonds.
Process entries faster with entry line import tool
Upload line item tariff information directly from Microsoft Excel to your SmartBorder entry.
Bill directly from the module.
Integrate with your accounting system. Set up automated fee schedules. Add/edit notes, fees, and payables for each customer
Pay statements and run queries
Manage automated clearinghouse statements and run queries such as the cargo manifest query.
Standalone.

Or an integrated suite.

Our applications work well on their own or integrated. Whether you want to license a single module or implement our entire compliance software suite, SmartBorder offers a cost-effective plan to suit your needs. Expert-led training is always included.

Call 1-800-572-2734 or contact us
Fully online.

Accessible from anywhere.

All SmartBorder applications are SaaS-based and PC-based. You need only an internet connection. SaaS software saves your company time and money, requiring no added IT resources or dedicated hardware.

Learn more about SaaS
Pay-per-use.

No long-term contracts.

You only pay for what you use. A small, one-time licensing fee establishes a pay-per-use plan with no locked-in contractual obligations. There are zero user licensing fees no matter how many users and locations.